Router Tent AC23 In addition to uncompromising performance and speed, it also offers two Wi-Fi bands, great security, or a clear application from which you can easily control the functions of the router itself.
Delivery directly from a Spanish warehouse
Currently, the Tenda AC23 AC2100 router is sold at a verified seller Banggood. When buying, we recommend you choose shipping EU Priority Mail, which is currently free with this product.
You can expect the product directly from Spanish warehouse from 3 to 5 working days from its dispatch. In addition, you no longer pay any additional fees.
Warning: This is a Chinese firmware version and is in Chinese. English can only be used in the form of a translation of the configuration interface via Google Translator or using this extension for Google Chrome.
Streaming in 8K
Router Tent AC23 is the ideal solution for playing challenging online games and streaming 4K whether 8K videos. In combination 2,4 GHz bandwidth (speed up to 300 Mbps) with 5 GHz band (speed up to 1733 Mbps) will achieve a total Wi-Fi network speed of up to 2100 Mbps.
Thanks to a large selection of security options, it is an ideal Wi-Fi router whether for work or play.
Maximum performance
Thanks to the support of all available standards WiFi 802.11 ac (2 / a / b / g / n) this router is a universal solution for a wireless network.
The chipset in AC23 is set to 7 external 6 dBi antennas formed the largest and fastest possible wireless network coverage. All this, with intelligent control of the chipset itself, low power consumption, and software quality, create a real ideal for even the most demanding users.
Advanced security
AC23 it also includes advanced features to secure your network from external attacks. These are types of forbid UDP flood attack, forbid TCP flood attack, forbid flood attack, or forbid WAN PING from internet.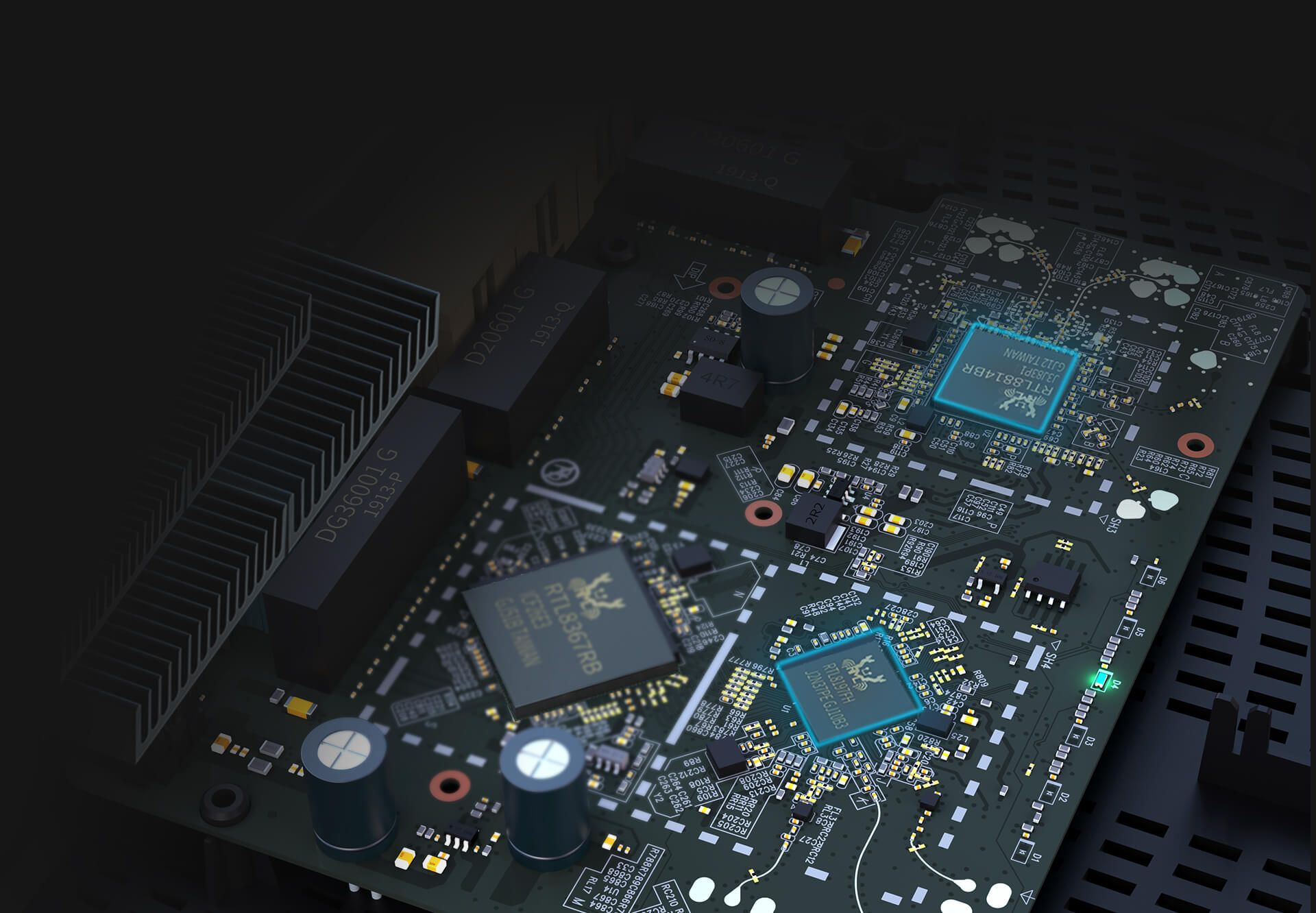 Tent AC23 supports many network security options thanks to advanced encryption. These are WPA, WPA2, mixedWPA / WPA2 with PSK and TKIP or AES encryption. In addition, this offer is supplemented by WPS.
There is also a setting option DDNS. There are also functions for filtering devices in the network "Client Filter"Parental control with support for banned or only allowed sites"parental Control"Whether the remote management of the router using"Remote Web Management".
The router is fully compatible with the latest version of the protocol IPv6. Of course, it is also advanced QoS, thanks to which services that are more demanding on latency, ie delay, are preferred in the network.
Advanced QoS is in addition supplemented by the function "Smart Traffic Prioritization", Thanks to which there is a really handy routing of data in the network for the best possible provision of all services.
The AC23 trend also excels in function VPN. It supports IPsec pass through, PPTP pass through, L2TP pass through, PPTP server, PPTP client, or L2TP client types.
Gigabit LAN ports
The router contains a total 3 gigabit LAN ports. AC23 excels mainly in its high permeability up to 6 Gbps. In combination with a gigabit WAN port, it is ideal for high-speed Internet connection and operation of large data transfers.
"Tenda WiFi" application
There is also an application for smartphones "WiFi storage", Which allows you to control some functions of the router, perform network speed measurement, or enable Wi-Fi network for visiting (Guest Network). The application is available for free in Czech on Android and iOS.
There are also on the router LEDs, which can be left on, off or set a timer so that they can turn themselves off.