Chinese manufacturer OPPO presented again very interesting products. Today we informed you that OPPO introduced 125 W charging technology named 125 W Flash Charge. The news in the fast charging segment does not end and brings a 50 W charger, a 110 W charging adapter and 65 W wireless charging.
🔥 Watch the news from China Planet na Facebook aj Instagram.
Powerful pocket chargers
Spoločnosť OPPO presented 50 W mini SuperVOOC charger and small, but at the same time very fast up 110 W charging adapter. In contrast to classic adapters, it is especially distinguished by its own small size, thanks to which it also fits into a trouser pocket.
Unlike other small chargers, OPPO fast chargers use namiso called silicone GaN, i.e. gallium nitride.
50 W mini SuperVOOC charger
This little charger is right now the thinnest on the market. Compared to other similar models of competing brands, it measures only 1,05 cm. This is a really great thickness, considering the performance it contains.
The weight stopped at 60 g, while the width of the charger is only 3,9 cm and length 8,2 cm.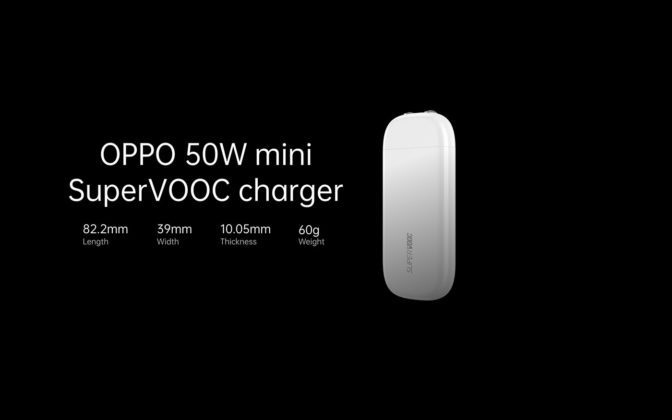 The charger supports fast self-charging OPPO SuperVOOC protocol. In addition, it also offers fast 18 W Quick Charge charging, 27 W PD charging or 50 W PPS charging.
OPPO The ad states that their charger is about as small as biscuit. It is possible to carry it almost everywhere with you, even in the smallest pockets, which are located e.g. on shirts or coats.

110 W mini quick charge adapter
Second in line is this small, but very much for it powerful adapter. Its size deserves the attention of many technology fans.
Here, OPPO states a universal dimension of size 35,76 cc, the thickness being to be 1,2 cm. This more or less corresponds to the thickness of a standard 18 W charging adapter.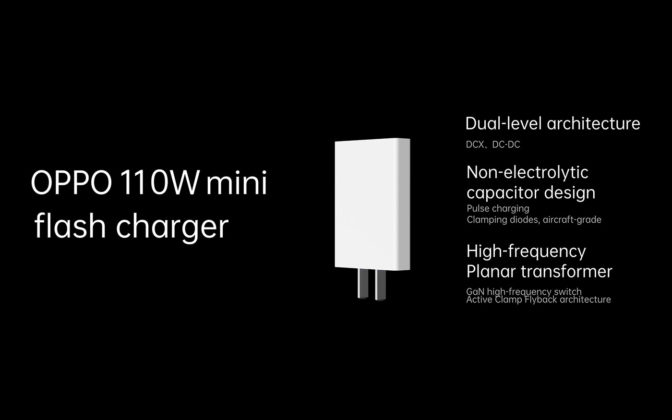 Wireless 65 W AirVOOC charging
There is also a new super powerful wireless charging. It has power up 65 W, which recently called the most powerful cable charging. The charger has a circular shape and the glass material used for the best possible heat dissipation.
The 4000 mAh battery should only be charged for 30 minutes. This is aided by a pair of coils and pump technology developed by OPPO on their own. However, the charger is currently in concept status, as there is no OPPO smartphone with this standard yet.
Prices for these chargers as well as availability yet or revealed. In addition, OPPO has not yet revealed their complete specifications or a closer demonstration using a presentation promo video.